If you've seen pigs or mini pigs at Bluebird Gap Farm, you know how cute they are. But did you know that mini pigs specifically can snore and experience sleep apnea in a way that is very similar to humans? Researchers at the University of Washington (UW) have begun studying the sleep of mini pigs in order to gain insight into the anatomy of humans with sleep apnea.
What Is Sleep Apnea?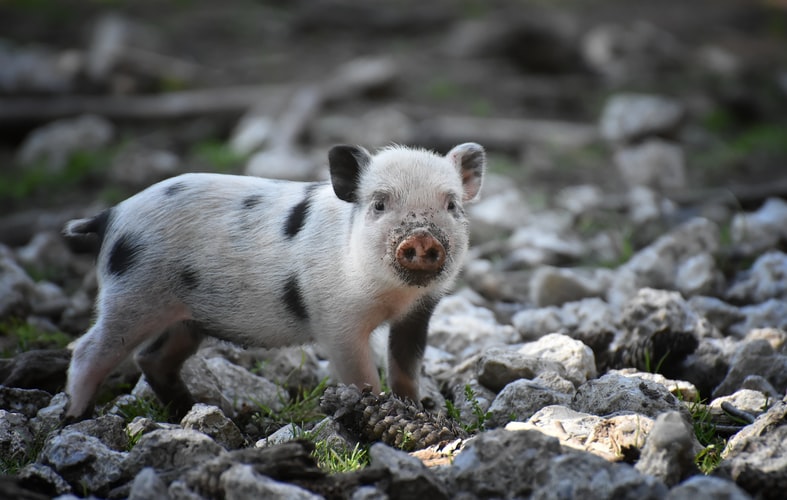 Sleep apnea is a serious sleep disorder that causes repeated pauses in breathing during sleep. Symptoms of sleep apnea include:
Loud snoring.
Pauses in breathing during sleep.
Gasping for air during sleep.
Trouble staying asleep.
Daytime sleepiness.
Dry mouth.
Headache.
Difficulty concentrating.
Irritability.
There are three types of sleep apnea:
Obstructive sleep apnea is the most common type, which occurs when the throat muscles collapse, blocking the airway.
Central sleep apnea occurs when the brain doesn't send the right signals to the muscles that control your breathing.
Complex sleep apnea is a combination of obstructive and central sleep apnea.
About the Study
The study was published in the journal Heliyon in January of this year. Lead author Zi-Jun Liu of the Department of Orthodontics at UW decided to study mini pigs with naturally occurring sleep apnea in order to learn more about the mechanism behind sleep apnea in humans, since current treatments are cumbersome and invasive.
Researchers worked with five Yucatan mini pigs, three of normal weight and two that were obese, because they are comparable to humans in terms of both airway structure and size. Though these pigs are "mini," they still weigh 100 lbs at a healthy weight. Most importantly though, obese mini pigs can naturally experience sleep apnea, whereas other animals need to be made to gain weight or have their airways blocked to cause sleep apnea.
The pigs' sleep apnea symptoms were monitored during natural sleep and under sedation. In natural sleep, only the obese mini pigs had sleep apnea episodes – up to 35 per hour – and in sedated sleep, both obese pigs and one normal-weight pig had episodes. The obese pigs snored in both natural and sedated sleep.
The researchers report that this study is important in that it shows mini pigs provide a naturally occurring animal model for studying sleep apnea, but more needs to be done to study the mechanisms and find effective long-term treatments. For more information about sleep apnea or to schedule an appointment with a sleep expert, call Hampton Roads ENT today.
Learn More About Sleep