Mohs micrographic surgery, more commonly known as "Mohs surgery," is a procedure that removes skin cancer cells one layer at a time. This technique allows surgeons to preserve healthy skin cells while fully removing the cancerous cells. Mohs surgery has a very high cure rate, is low-risk and can be completed in a doctor's office without general anesthesia.
When Is Mohs Surgery Performed?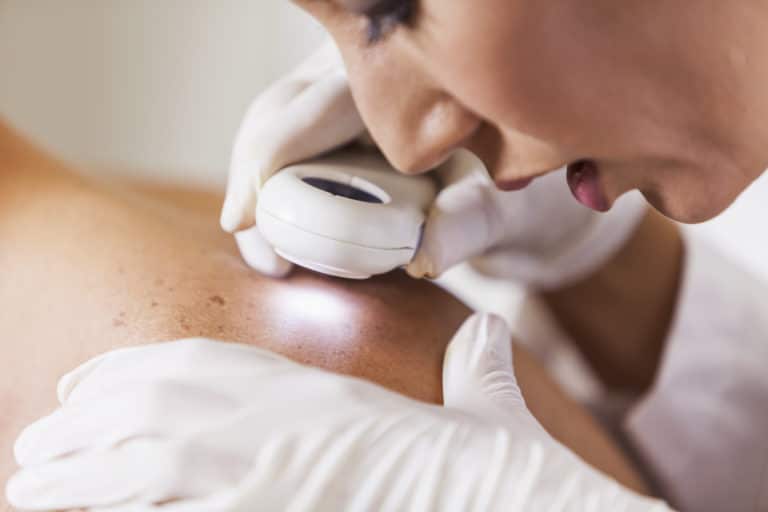 Mohs surgery is typically performed to treat high-risk basal cell cancer and squamous cell cancer, which are the most common types of skin cancer. Both types develop in the top layer of skin, called the epidermis, usually on highly-exposed areas.
Basal cell and squamous cell cancers are typically…
Located on the face, neck, scalp, fingers, toes or genitals
Rapid-growing and recurrent
Large with poorly-defined edges
Aggressive in their tissue pattern, as determined by a skin biopsy
Mohs surgery can also be performed to treat:
Lentigo malignant melanoma
Dermatofibrosarcoma protuberans (DFSP)
Extramammary Paget's disease
Microcystic adnexal carcinoma
Merkel cell carcinoma
Sebaceous carcinoma
What Are the Potential Risks of Mohs Surgery?
Mohs surgery is considered highly safe. Risks are possible, though uncommon, and include:
The wound reopening or pulling apart
Surgical wound tissue dying due to lack of blood flow
Blood collecting under the skin
Infection
Damage to nerve endings
Scarring
The post-surgical scar takes up to one year to fully heal. During this time, the scar may appear red or feel hard, bumpy or itchy – these features are normal and usually temporary.
How Do I Prepare for Mohs Surgery?
Your doctor will give you a full list of instructions to prepare for Mohs surgery, but some of the preparation may include:
Stopping certain medications (like aspirin and ibuprofen) and supplements (like ginkgo biloba, vitamin E and fish oil) before surgery
Stopping smoking, which can increase risk for postoperative complications
Stopping alcohol for at least 48 hours before and after surgery to prevent bleeding
For more information about Mohs surgery or to schedule a consultation with an ENT physician, call the experts at Hampton Roads ENT today.