The face is usually the first part of the body to show signs of aging. Gravity and a loss of volume cause skin to sag and wrinkles to form. While there is no way to prevent aging, a face and neck lift procedure can smooth your skin, tighten tissues and muscle, and remove excess skin and fat. This should help you look and feel younger.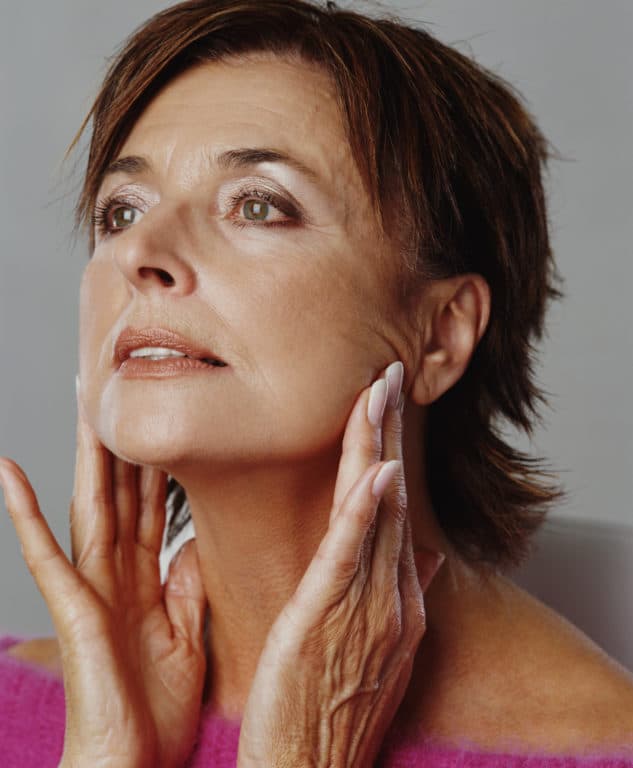 Facelift
The best candidates for facelift surgery display signs of facial aging, but their skin maintains some elasticity. They are usually in their 40s through 70s.
Before undergoing a facelift, you'll need to schedule a consultation with a surgeon. You should be healthy and have realistic goals for your procedure. Your surgeon will give you a physical exam and thoroughly discuss your medical history before making a recommendation based on your expectations and overall health. In some cases, a more minor procedure may be enough to satisfy your goals.
The aim of a facelift is to improve problem areas such as sagging skin, creases below the eyelids and along the nose and mouth, loose skin and fatty deposits. A neck lift can eliminate sagging jowls, loose skin and accumulated fat. The two may be performed simultaneously and other procedures (facial implants, soft tissue augmentation or injectable fillers to reduce wrinkles) may also be completed, either at the same time or soon afterwards, to enhance the results.
How Are Facelifts Performed?
During the procedure, anesthesia is administered and incisions are made, allowing the surgeon to sculpt and reposition fat, tissues and muscle from the face, jowls and neck. Skin is then draped over the contours of the face and closed using sutures or adhesives.
All surgeries carry some risk of side effects or complications. Initially, there will be swelling and bruising. You may also experience scarring, bleeding, infection, numbness, pain, hair loss at the incision sites, facial nerve injury, skin loss and fluid accumulation.
You must decide for yourself whether the risk is worth the payoff. For many patients, the final results – a more youthful appearance that is long lasting and easily visible – help restore confidence and far outweigh the possibility of any complications.
Liquid Facelift
A liquid facelift is a procedure in which injectable skin fillers are used to lift and contour facial features. It reduces wrinkles, creases, folds and sagging skin and creates a smoother, younger looking face. It is often performed in conjunction with Botox treatment.
A liquid facelift isn't a true facelift. Unlike a surgical procedure, the results are temporary, lasting six months to a year. A true facelift relies on surgery to reposition facial tissues and tighten the skin, while a liquid facelift is a short-term solution for hiding the effects of aging. Still, it has its benefits; patients with limited resources, no time for an extended recovery period or needing results in a hurry can benefit from a liquid facelift.
Surgical facelifts require a steeper initial investment (though over time, because a liquid facelift is a short-term solution, the cost can easily exceed that of a true facelift). There is a greater risk of side effects or complications from a surgical facelift, as well.
A liquid facelift adds volume to the face and contour to certain features. It will benefit those seeking to correct bags and dark circles under the eyes, widen the eyes and lift the lids, lift and diminish the jowls, plump up the cheeks and temples, lift the corners of the mouth to reshape the smile and hide bumps on the nose.
A variety of synthetic and natural dermal fillers are used in a liquid facelift procedure. These may include Juvederm, Sculptra, Radiesse, Restylane, Perlane and others. Botox and Dysport, injections that utilize minute amounts of botulinum toxins to temporarily paralyze muscle, are often used simultaneously to provide added lift. This can translate to longer-lasting results.
Not only is the procedure safe, it is also the fastest growing segment of cosmetic medical care in the United States according to the American Society of Plastic Surgeons. Still, no procedure is completely without risk. Possible side effects of a liquid facelift include bruising, swelling, pain, numbness, redness, itching, rash and tenderness.
Some patients experience allergic reactions, skin nodules, wounds or abscesses, blurred vision or flu-like symptoms. Most of these are short-lived, clearing up within a week, though in rare cases the effects may be long-term.
Eyelid Surgery
Eyelid surgery, also known as blepharoplasty, is a surgical procedure that removes excess skin and wrinkles from the lower eyelids, and fatty deposits that cause puffiness from the upper eyelids. It eliminates bags and dark circles under the eyes, and corrects droopiness of the lower eyelids.
The best candidates for eyelid surgery are individuals in good health who have realistic expectations about the outcome. They are usually at least 35 years old and nonsmokers.
A typical eyelid surgery, one that works on both the upper and lower eyelids, takes about two hours. You'll receive a local anesthetic and either oral or intravenous sedation.
Upper eyelid surgery is usually performed first; incisions are made along the natural folds of the eyelids and the skin is separated so that excess fat, tissue and muscle can be removed.
For the lower eyelids, an incision is usually made just below the lashes and excess fatty deposits are removed. In some cases, laser resurfacing may be recommended.
While eyelid surgery is a common procedure that thousands of people undergo every year without problems, there is always some risk involved with surgery. Possible complications include infection, hematoma, scarring, allergic reactions, an inability to completely close the eyes, loss of vision and dryness or irritation in the eyes. You'll likely experience some swelling or bruising and may experience blurry vision and a sensitivity to light.
Results are usually long lasting, although continued aging can make forehead skin sag, resulting in the appearance of droopy eyelids again over time. Some patients choose additional surgery on the upper eyelids after a number of years. Repeat surgery on the lower eyelids is rarely necessary.
Brow Lift
A brow lift, sometimes referred to as a forehead lift or eyebrow rejuvenation, is a procedure in which the skin of your forehead is raised and excess tissue is removed to soften wrinkles and creases and restore a more youthful appearance.
Who Can Benefit from a Brow Lift?
As we age, lines across the forehead deepen and eyes can become droopy as skin loses elasticity and starts to sag. This can make you look sad, tired or angry. A brow lift can help correct the natural signs of aging by softening forehead creases and frown lines, repositioning a sagging brow, and raising the eyebrows to provide a more youthful and pleasant appearance.
The best candidates are healthy individuals who don't smoke and have realistic expectations about improving their appearance.
How Are Brow Lifts Performed?
There are several different surgical techniques that can be utilized for a brow lift.
With a coronal brow lift, an incision is made from ear to ear across the hairline and the forehead is lifted into a new position after excess skin is removed.
During a hairline brow lift, an incision is made between the top of the forehead and the beginning of the hairline; this is often performed on individuals with high receding hairlines but may leave a visible scar.
A third option is an endoscopic brow lift; this entails using a tiny camera attached to an endoscope to reposition tissue and muscle beneath the skin through a series of small incisions made above the hairline.
What Can I Expect with a Brow Lift?
As with any surgical procedure, there are some risks involved. These include bleeding, infection, swelling and bruising, scarring, hair loss, elevated hairline, skin discoloration, facial asymmetry, pain and irregular skin contours. Numbness on top of the scalp is a common side effect of a coronal brow lift; this may be either temporary or permanent.
You should see final results in four to six weeks. They usually last a minimum of five to seven years. Some patients opt for additional surgical facial procedures to go along with their brow lift, including eyelid surgery or a facelift.
Neck Lift
While there is no way to prevent aging, a neck lift can help you look and feel younger by eliminating sagging jowls, loose skin and accumulated fat.
Before your surgery is scheduled, you doctor will evaluate your health and discuss your surgical goals and expectations. Depending on the results you want, you may elect to undo additional procedures at the same time as your neck lift.
To remove accumulated fat from the neck, liposuction is used. Your surgeon will make a tiny incision behind each ear and under the chin. Fat is then suctioned from the jaw line and beneath the chin with specialized equipment.
To correct a sagging jowl, oftentimes referred to as "turkey wattle," small cuts are made under your chin and behind your ears to access and tighten a muscle called the platysma.
Loose skin is corrected by trimming parts of the skin, lifting the skin into place and securing with stiches. This method is the most complicated and can take anywhere from two to four hours, depending on the complexity of the procedure.
Following surgery your surgeon will fit you with a compression bandage. Unless otherwise instructed, you will be required to wear the bandage for at least one week.