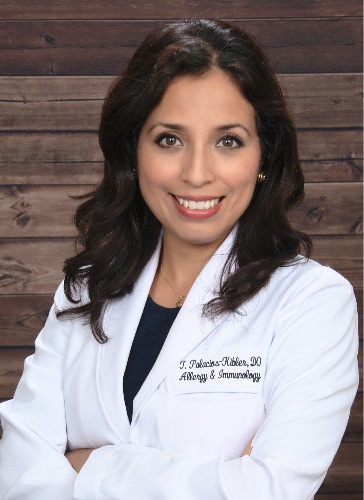 Thamiris V. Palacios-Kibler D.O., M.S.
Dr. Palacios-Kibler is a native of Peru and moved to the United States at the age of 10. She obtained her undergraduate degrees in Biology and Spanish Literature, followed by her Master of Science in Medical Biodefense from George Mason University. She then entered medical school and graduated magna cum laude from Virginia College of Osteopathic Medicine. She completed her internal medicine residency and adult and pediatric allergy/immunology fellowship at the University of Virginia. She then worked as a clinical instructor at the University of Virginia teaching residents, medical students and fellows about allergy and immunology, while seeing patients and conducting research. During her time at the University of Virginia, she was actively involved in numerous research projects to advance the knowledge of chronic urticaria, common variable immunodeficiency, severe combined immunodeficiency and Entopy (localized allergic rhinitis). She has several publications in various medical journals and has presented her research at state and national meetings.
Dr. Palacios-Kibler is an active member of the American Academy of Allergy, Asthma, and Immunology as well as the American College of Allergy, Asthma & Immunology and is currently serving in various committees. She is experienced in treating a variety of conditions including environmental allergies, contact dermatitis, sinus disease, asthma, food/drug allergies, eczema, hives, mast cell disorders, immunodeficiencies and other allergic conditions.

Dr. Palacios-Kibler believes that as an allergist and immunologist, her primary role is to help individualize a treatment plan for her patients to improve their quality of life. Her goal as your physician is to help you better understand your condition and be your partner in health.
Dr. Palacios-Kibler is happily married to her husband of 15 years with whom she shares three children. When she is not working, you can find her exploring the Hampton Roads area.
Languages spoken
English and Spanish
Board Certified
Board certified in Allergy & Immunology
Board Certified in Internal Medicine.
Publications, Presentations, & Research
SCID Newborn Screening and the Virginia Experience
Asthma and Anaphylaxis Preparedness in K-12 Schools
Wahoo Cool For School: Bridging the Clinic to the Classroom to Update Student-Specific Food Allergy Recommendations
Honors & Awards
Jefferson Public Citizens Recipient (January 2017)
American Academy of Pediatrics CATCH Grant co-recipient (2016-2017)
Member
American Association of Asthma, Allergy and Immunology (AAAAI)
American College of Asthma, Allergy and Immunology (ACAAI)
Clinical Immunology Society (CIS)
American College of Physicians – Internal Medicine
Sigma Sigma Phi Honor Society Member
Education
Master of Science, Biodefense, George Mason University, Fairfax, Virginia
Bachelor of Arts and Science, George Mason University, Fairfax, Virginia
Doctor of Osteopathy, Edward Via Virginia College of Osteopathic Medicine Blacksburg, Virginia
Residency-Internal Medicine, University of Virginia Health Systems, Charlottesville, Virginia
Fellowship-Allergy and Immunology, University of Virginia Health Systems, Charlottesville, Virginia